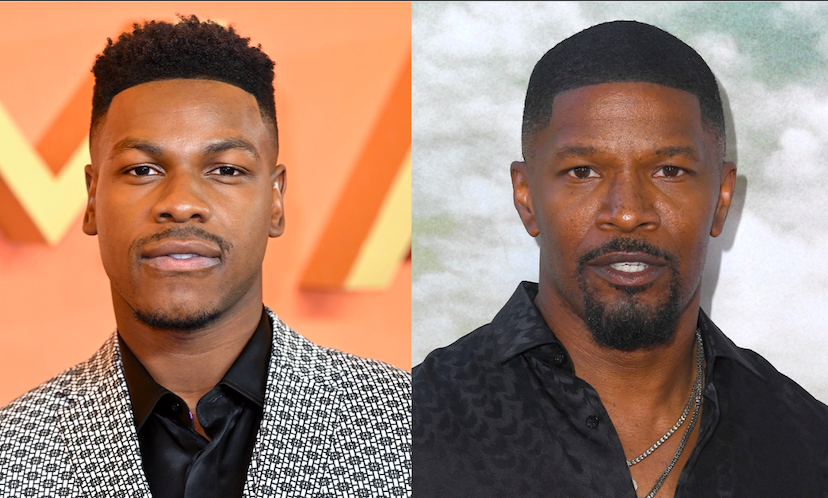 The movie premier for 'They Cloned Tyrone,' featuring Jaime Foxx brought all the stars together–except Foxx. Conflicting reports about his health began to circulate causing social media to wonder if Foxx was really on his way to recovery.  His co-star actor John Boyega admitted his phone calls to Jamie had gone unanswered in the wake of his mysterious medical emergency.
John just revealed he has made direct contact and producer Datari Turner said "He'll be back to work very soon."
People Magazine reports:
John Boyega is sending his well wishes to co-star Jamie Foxx.
The Breaking actor, 31, discussed missing Foxx at the Hollywood premiere of their film They Cloned Tyrone, and revealed to PEOPLE that he recently chatted with the 55-year-old actor — who has been recovering after experiencing a "medical complication" — on the phone.
"He finally picked up the phone. Thank you, bro," Boyega told PEOPLE Tuesday night. "He's doing well. And then, you know, we just giving him the privacy, and we can't wait for his return."
"I gave him the well wishes directly," the actor added. "I gave him all the well wishes. So I'm just gonna be waiting until he comes back out here. So take your time, Jamie. We love you, bro."
Said Datari Turner, who co-produced the film alongside Foxx, "He's doing amazing. I promise you. Doing really, really good. [Director] Juel [Taylor] talked to him yesterday. John Boyega talked to him yesterday. He's in really, really good shape and spirits. And he'll be back on the screen. He'll be back to work very soon."