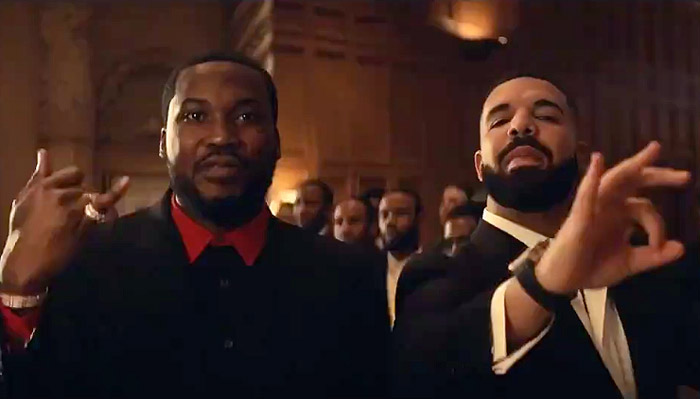 That Meek Mill and Drake beef is long in the past. Pulling up on SiriusXM's Hip Hop Nation to talk about his new single with RIck Ross, Meek revealed he and The Boy have fostered a very strong relationship.
"Me and Drake talking to each other a lot," Meek aid. "Somebody was sayin 'Slime You Out' was corny.' I texted him. I was like, 'I don't think 'Slime You Out' is corny, and I would tell you if I thought it was corny.' But on the internet now we got it like that, where we could like be brutal."
Meek also stated Drake would tell him if a song was corny and he he is happy to be in a space where he and Drake can talk about anything. "We ain't had that before the beef," he said.
Meek Mill discusses friendship with Drake: "We can text each other and say anything"

🎥: @HipHopNation https://t.co/52WCdDsvQr pic.twitter.com/nI9tSwLN33

— HipHopDX (@HipHopDX) September 30, 2023
Drake has been walking through the crowd on his way to the stage as part of his It's All A Blur Tour. With The Boy arriving in Philadelphia in August, Drake was escorted to the stage by Meek Mill.
Once he took the stage, Drake spoke about his history with Meek and how it once got spicy for him during a trip to Philly.
"I don't stand up here and lie to nobody," Drake said. "You see who I walked out here with, right? I'ma always keep it 100 with you. The last time I was in this building, that man right here, he's been representing this city since he started in this shit.
"We weren't getting along at the time and he's a real nigga so he definitely got us up out of Philly real quick. We didn't stick around and chill. It means the most to me that I could come back to this city and I could show the growth as two men that we come together and represent for mothafckin' Philadelphia together.'"