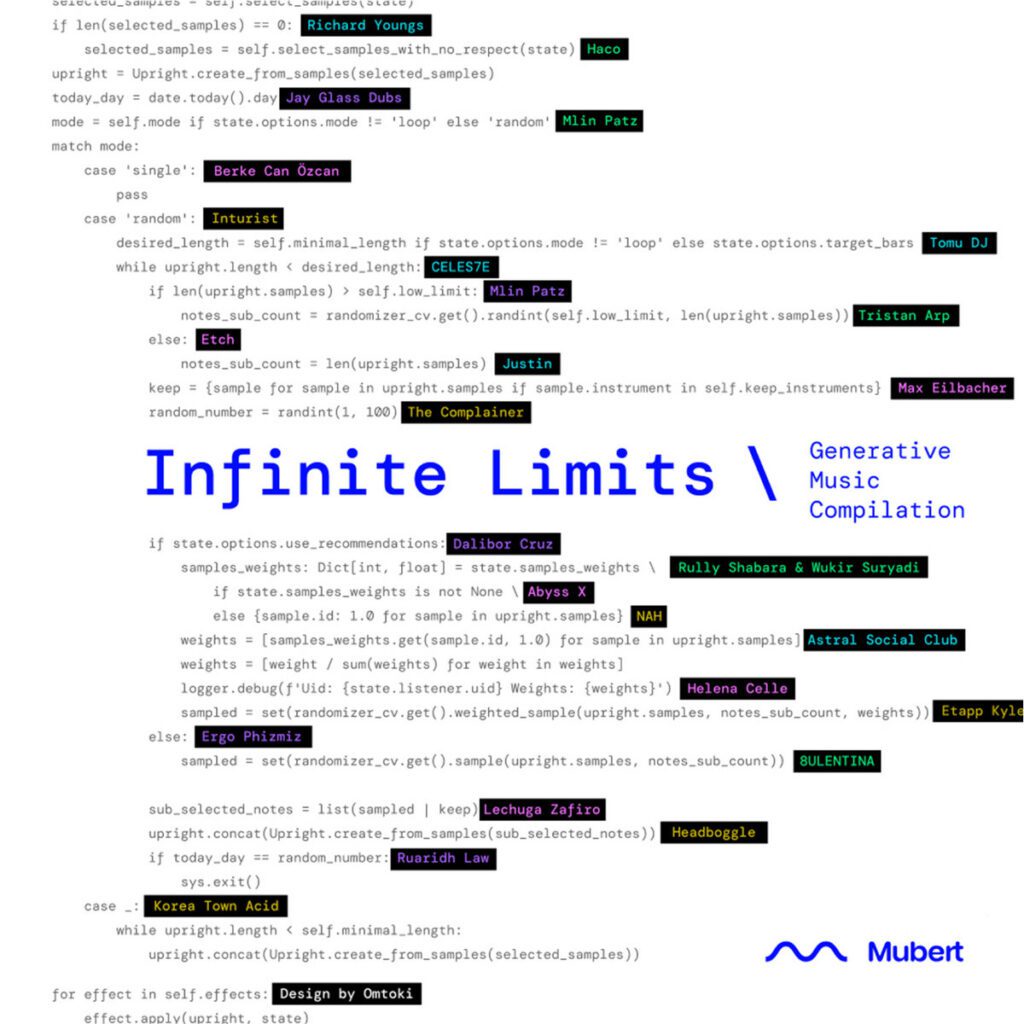 Mubert platform is not slowing down, and released another AI supported album. Only a month ago they dropped a project titled "Anthropic Principle" featuring 8 AI-generated techno tracks in collaboration with virtual DJ Kàra Màr, created by Sensorium.
The new LP named Infinite Limits: A Generative Music Compilation (available on Bandcamp) is a collection of 25 tracks created by 25 different musicians from all around the world. The unfettered generative compositions of the Mubert artists featured on Infinite Limits transcend geography and genre, breaking many, if not all, conceivable boundaries.
The pool of sounds covers Indonesian avant folk by Senyawa, special transmissions from the UK underground courtesy of Helena Celle, Richard Youngs and Astral Social Club, plunderphonic electronics from Ergo Phizmiz and Wojciech Kucharczyk, new work by leading Greek producers Jay Glass Dubs and Abyss X, the sound of contemporary experimentation in America with 8ULENTINA, Tomu DJ and Tristan Arp, the Ukrainian mavericks Etapp Kyle and Mlin Patz.
Make sure to check out this genre-borderless release by Mubert:
Mubert: Website – Facebook – Instagram – Twitter
With over 2 million downloads worldwide, the music service Mubert inspires and empowers creators and brands in generating unlimited royalty-free music with the help of AI. Mubert users can instantly generate an audio track with more than 100 genres to choose from and a wide selection of attributes to help them find the right tracks.
The 2019 Google App of the Year, and App of the day in the App Store in 170 countries, provides artists and entrepreneurs with tools to produce unique, never-ending soundtracks for their projects. Mubert collaborated with a line of fine brands and platforms such as Restream, Sensorium, Banuba, Depositphotos, just to name a few. In 2021, as an outcome of the partnership with Sensorium Galaxy, Mubert and virtual DJ Kàra Màr released an album titled "Anthropic Principle" featuring 8 AI-generated techno tracks.
In order to build an innovative music ecosystem where technology meets art, the series-A startup Mubert is a one-of-a-kind, creator-centric platform that utilizes AI to generate unlimited royalty-free music. Implementing new features, and simplifying the process of creating new music with help of AI allowed Mubert's users to generate over 21 million tracks on the platform and stream over 62 million minutes of music.