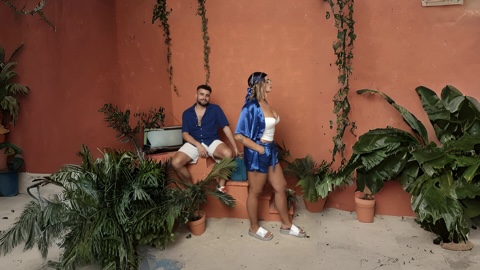 In their much-anticipated debut album, 'LOVE / SOUNDS + ROBOTS,' the dynamic duo of singer-songwriter Soleil and the prodigious producer and multi-instrumentalist VKZ have unleashed an exhilarating sonic journey that will leave listeners enthralled. With eight electrifying tracks that effortlessly blend genres, this collaboration is a testament to their unbridled creativity and boundless musical prowess.
Soleil, a seasoned singer-songwriter hailing from the vibrant streets of New York, brings her mesmerizing vocals and years of stage experience to the forefront. Her soulful voice casts a spell on every track, drawing listeners deeper into the enchanting world they've crafted. VKZ, the maestro behind the boards, possesses an uncanny ability to infuse his productions with an air of unpredictability and innovation. His quest for novel musical experiences ensures that each piece is a breath of fresh air, a delightful deviation from the norm.
"SOLO LOVER (I'M YOURS)," the opening track of the album, sets the tone with its infectious beat and funky grooves that beckon you to hit the dance floor. Transitioning to "ZODIAC," the tempo mellows, shrouded in haunting undertones that tug at your heartstrings and leave you lost in introspection. As the rhythm escalates in "COMPLICATED," multiple instrumental breaks transport you to euphoric heights, commanding you to surrender to the dance-induced trance. "LION'S DANCE (CLOSER)," one of the album's most soul-soothing tracks, invites you to sway with the intoxicating rhythm, perfectly intertwining with Soleil's captivating vocals.
"LOVING IS EASY (U GOT THE LOVE)" continues the sonic adventure, infusing euphoria into every note, destined to become a staple on your summer playlist. The synth-laden party anthem "GREAT BEYOND" showcases Soleil's prowess over the layers of sound, elevating the euphoria to another level. Stepping into a more mellow, R&B-inspired soundscape, "STRANGERS" unveils stunning harmonies that resonate with raw emotions. The final gem in the treasure trove, "NTBYG," breaks away from the pack with its gritty and darker ambiance, serving as the perfect album closer. In "LOVE / SOUNDS + ROBOTS," there lies something for every soul and every mood. Each listen unravels new nuances and surprises, an auditory feast that never ceases to delight.
Soleil and VKZ's synergistic collaboration is a testament to their commitment to pushing musical boundaries, and we can't wait to witness their future musical endeavours. Brace yourself for an electrifying ride as you immerse yourself in the world of Soleil and VKZ, where love, sounds, and robots harmoniously collide.