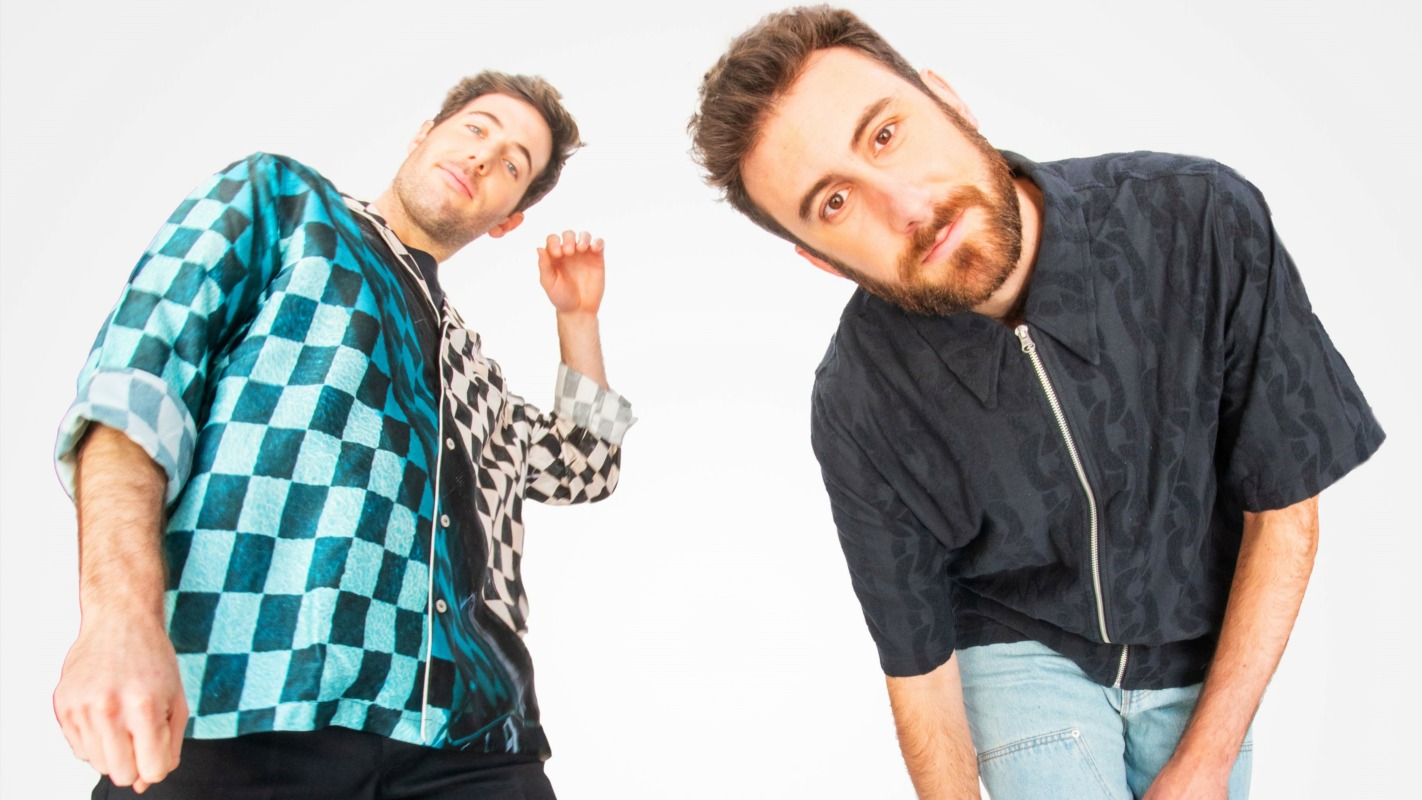 Having grown up due northwest of Indio's Empire Polo Club, in Los Angeles Two Friends' Eli Sones and Matthew Halper always dreamed of one day playing Coachella Valley Music and Arts Festival. Several "Big Bootie" mixes and one pandemic later, the widely celebrated "Life's Too Short" co-producers finally landed on Coachella's 2023 festival bill. On Friday, April 14, Two Friends introduced an overflowing Sahara Tent to their upgraded live show, playing dozens of crowd favorites from the cosmic comfort of their spaceship-turned-DJ booth. A week later, the guys did it all over again, only this time bringing out special guest Bryce Vine rather than Weekend 1's Bebe Rexha.
Now that Coachella has officially come to a close, sewn shut on Sunday night by the elusive Pangbourne House Mafia in place of Frank Ocean, Sones and Halper are gearing up for their upcoming Planet Two Friends tour run. Before the tour, however, the guys are preparing to deliver their second single of 2023, "More Than Yesterday," featuring country pop singer-songwriter Russell Dickerson.
Fresh on the heels of their electrifying Weekend 1 performance, Two Friends sat down with Dancing Astronaut to discuss their new single, dropping everywhere May 10, "Planet Two Friends," performing at Coachella, and more. Read the exclusive Q+A below.
---
How long have you guys been friends?
Matt: "Eli and I met in middle school, so that must've been 2005, or 2006. We didn't start making music together until our senior year of high school. The crazy part is we've now been music friends way longer than we've been regular friends."
How has Two Friends' success impacted your core relationship to one another?
Matt: "It hasn't, honestly. If we're off on a weekend, we might still hang out just us, or us and some friends."
Eli: "From day one, the plan was always simple: work hard and have fun. And that's still our plan today. Our studio is still in the basement of Matt's house, where we used to play video games and have sleepovers in middle school. We're still just two friends hanging out in the basement, having fun and working hard… On music now, instead of FIFA."
You guys recently put out your first single of 2023, "No Saving Us" with SAYGRACE. How did this collaboration come to fruition?
Eli: "It was a very smooth process. Grace was visiting LA from Australia, and we invited her and another writer Tatu to come over to our studio. The four of us started [writing] from scratch, and in that one afternoon, 'No Saving Us' came to life."
Matt: "Yeah, [Grace] is dope. The collaboration stemmed from a mutual friend managing her. She's had some big songs and features, and when we heard them, we were like, 'Damn, her voice is crazy!' She came into the studio right as COVID was starting to simmer down, and we ended up writing ['No Saving Us'] in a day. We'd been playing with the production forever, but we're super stoked with how it turned out. It's always fun playing out new songs live and noticing that people are learning the words."
What was it like hearing you'd booked Coachella this year, and what went into preparing the set?
Matt: "We grew up in LA, so that was always the dream. Back in October, our agent texted us, 'We need to get on a call right now…the CAA legal department found something we need to discuss.' He said he was going to text us this document… And that we might get sued! We were like, 'What the hell is going on?' He sends us this unnamed document, we click it, and it's a Coachella offer."
Eli: "For the past five or six months, we've been putting blood, sweat, and tears into getting everything ready for Coachella, and for our Planet Two Friends tour that we're embarking on in May. The music, the stage design, the visuals, the surprises… our whole team has been working so hard to take it to the next level."
Matt: "Coachella [was] almost like the debut of Planet Two Friends. We'd been kind of preparing for both at the same time."
How would you say Two Friends' sound has evolved over time?
Matt: "There was a point where I felt every DJ had to make one very niche genre of music and stick to it. For us, it was progressive house. You don't change the tempo, you stick to the 32-bar intro, 32-bar outro… It was very formulaic, and I think that changed in 2015. I have to give credit to The Chainsmokers for 'Roses' and 'Closer.' Those tracks broke open the gates for a lot of DJs who came to realize they were also songwriters. Around that time, we started making what we wanted to make. We threw out the metronome and started producing things that felt right. Our sound has opened up a lot since then, but we still produce house beats, and it's all still the same Two Friends vibe."
What's your favorite sign/totem you've seen at a show?
Eli: "Definitely a totem that had a picture of me from my high school prom…"
Matt: "I think it was at Firefly. We had a night slot. It was sick as hell. And there's this totem with two sides being rotated. One side is Eli from prom… He looks like a twig. And the other side is our photographer. I'm up on stage like, 'Where am I at?'"
Eli: "It was a picture that we never posted publicly on our socials or anything… I have no idea how they got it."
Who on this year's Coachella lineup would you like to work with down the line?
Eli: "Blink-182 has always been on our list… I bet if we looked up old interviews from when we first started making music in 2011, they'd be our dream collaborators any time we were asked that question."
What excites you about "More Than Yesterday," your new single with Russell Dickerson?
Eli: "We are so excited about 'More Than Yesterday' with Russell. That was actually a song we started writing while on our last tour, the 'Adventureland Tour.' I have a vivid memory of working on it in a random hotel in Memphis on an off day. Then, when we got connected with Russell, and he wanted to work together. It was a no-brainer; his voice is so amazing, and he's such a great guy, too. We can't wait for the full release and to start playing it at our upcoming shows."
---
Featured image: Greg Fry