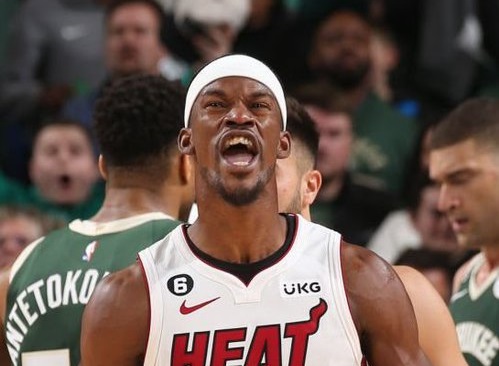 Jimmy Butler is one cold dude. While destroying the Boston Celtics en route to a 3-0 lead in the Eastern Conference Finals, Jimmy slid to the sideline and had a message for Yung Miami.
The Shade Room spotted the moment, which came near the end of the first half and got a smile from Miami, who was sitting courtside. As his teammates helped up a fallen ref, Jimmy spoke to Yung Miami.
Fans hit Yung Miami's mentions to find out the message, but she would just laugh it off.
The Boston Celtics find themselves in the same Conference Finals fate as the Los Angeles Lakers: a 3-0 hole. On Sunday night, Jimmy Butler and the Miami HEAT had it all going, blasting the Celtics 128-102, putting Jayson Tatum and his team on the brink of elimination.
Butler had 16 points, eight rebounds, and six assists for the night. Gabe Vincent dropped 29 on a game-high six threes, and Bam Adebayo had 13 points composed of highlight poster dunks over Celtics defenders. Superstar All-NBA duo of Tatum and Jaylen Brown had 14 and 12 points, respectively.
At the end of the game, Celtics coach Joe Mazzulla took the blame for the performance on the court.
"I just didn't have them ready to play," Mazzulla said. "I have to get them in a better place to be ready to play, and that's on me."
Game four and Miami's chance to get back to the NBA Finals will go down on Tuesday night on TNT.