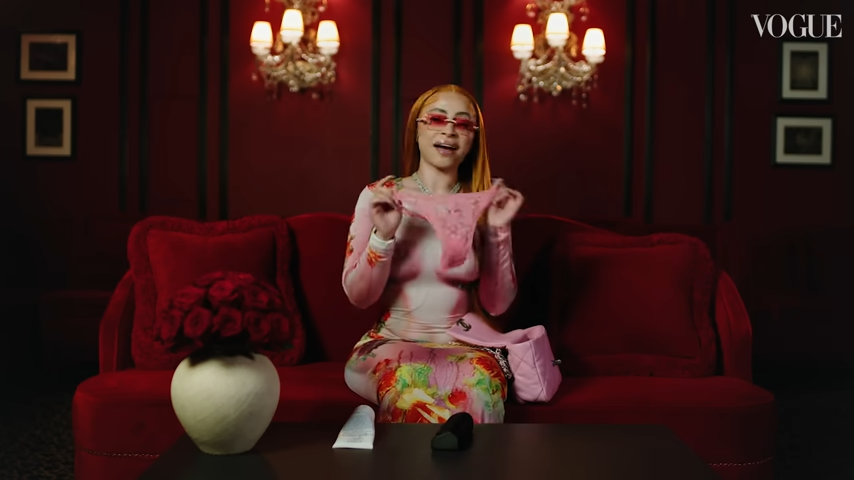 You will never catch Ice Spice without a clean pair of panties. Speaking with British Vogue, Ice Spice revealed that she keeps a fresh pair in her Chanel bag.
"I always keep a pantie on me," Ice Spice said. "The baddies that get it, get it. All my panties are pink. I always keep a pantie because you just be having to change your panties."
Apple Music recently announced Ice Spice as the latest addition to its Up Next program, Apple Music's monthly artist initiative geared towards identifying, showcasing, and elevating rising talent. 
The 23-year-old rapper has had a meteoric rise since her drill anthem "Munch (Feelin' U)" went viral on TikTok in 2022, which she soon followed with the six-track chart-topping debut EP Like..?. Since then, Ice's inherently New York sound and her swaggering lyricism have opened the door to collaborations with some of the biggest names in the music industry: PinkPantheress, Nicki Minaj, and Taylor Swift. To date, her music has reached Apple Music's Daily Top 100 in 142 countries worldwide, including 55 where it has reached the Top 10. In the first six months of 2023, her streams grew 868% on Apple Music, and her streams on major Apple Music editorial playlists, like Rap Life and High Maintenance, grew over 1,300%. It's no wonder she was included among Shazam's Predictions 2023 playlist, a collaboration with Apple Music that predicts 50 artists that are poised to have a breakthrough year.  
"Thank you to my fans for helping me get this far in my career," said Ice Spice. "I'm excited to share pieces of my journey with you all on Apple Music!"
In her exclusive Apple Music Up Next short film out today, Ice shows off some of her favorite stomping grounds in the Bronx, talks about being a role model for young women, and is flooded by fans in her neighborhood as they spot their hometown hero. In her sit-down with Apple Music's Zane Lowe, also out today, Ice talks candidly about having mentors in Minaj and Drake, being smart about her career following her rapid rise to fame, and her excitement for the upcoming Doja Cat tour.