LL COOL J has a new album loading, and the release has some heavy hitters. According to AllHipHop, Eminem, Nas, Fat Joe, Rick Ross, and Saweetie are set to be featured on the album. To make it even crazier, the album is set to be entirely produced by Q-Tip.
Coming off his 55th birthday, LL announced the new album. It would be his first album since 2013's Authentic.
"I'm competing with myself on this new album. Wait til you hear this MF," LL tweeted. "This year B. It's coming."
Liv Nation Urban has announced a once-in-a-lifetime touring experience and celebration of hip-hop culture. Rock The Bells and Live Nation Urban The Kennedy Center Honoree, two-time Grammy Award winner, Rock and Roll Hall of Fame® Inductee, and Hip-Hop Icon LL COOL J as the headlining act at The F.O.R.C.E. (Frequencies of Real Creative Energy) Live.
READ MORE: LL COOL J Announces August Return of Rock the Bells Festival
For the first time in 30 years, LL COOL J will headline an arena tour with this historic tour. The lineup for this tour was chosen by LL COOL J himself, living true to the phrase F.O.R.C.E. (Frequencies of Real Creative Energy).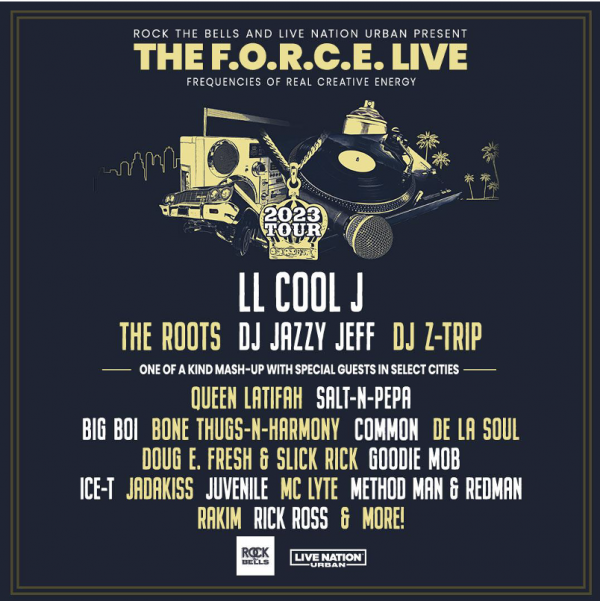 All events will feature collaborative live performances with renowned Grammy Award-winning Hip-Hop band The Roots, the famous DJ Jazzy Jeff, and DJ Z-Trip, building on their incredible performance together on the GRAMMY® Awards earlier this year celebrating the 50th Anniversary of Hip-Hop. The evening will be a continual musical mix up with artist performances intertwined into one continuous musical set, contrary to the typical "opening act – headliner" style, supported by The Roots. Salt-N-Pepa, Queen Latifah, Rakim, Common, MC Lyte, Method Man & Redman, Big Boi, Bone Thugs-N-Harmony, Ice T, Juvenile, Doug E. Fresh, Slick Rick, De La Soul, Goodie Mob, Jadakiss, Rick Ross, and more are among the legendary performers on the lineup in some cities.
 "I'm excited to be on my first Arena tour in 30 years. It's proof that our culture is more viable than ever," LL COOl J says of the tour. "Get ready for some non stop beats and rhymes. See you this summer!"
READ MORE: LL COOL J Delivers Powerful Tribute to Hip-Hop During at iHeartRadio Awards
The F.O.R.C.E. Live begins its journey on June 25 at Boston, Massachusetts' TD Garden, stops in Brooklyn, New York's Barclays Center on June 27, travels to arenas throughout the United States and Canada, and concludes on September 3 in Los Angeles, California's Kia Forum. You can cop tickets here.
2023 is proving to be a massive year for LL Cool J. In addition to a new album, his inaugural Hip-Hop cruise is ready to take off.
The "Rock The Bells Cruise: A Hip-Hop Experience" has been announced in collaboration with Sixthman, the industry leader in immersive music and lifestyle festivals at sea. The cruise is the first of its type, sailing from Miami to the Bahamas on Nov. 13 – Nov. 17, 2023, and offers an all-inclusive four-day, four-night Hip-Hop adventure aboard the Norwegian Pearl.
The company is taking its annual Rock The Bells Festival to sea, a dynamic, day-long event created by Rock The Bells founder LL COOL J in his birthplace of Queens, NY, featuring live performances by renowned musicians. The cruise is one of several announcements planned by the corporation to commemorate and celebrate Hip-50th Hop's anniversary and to recognize its icons.