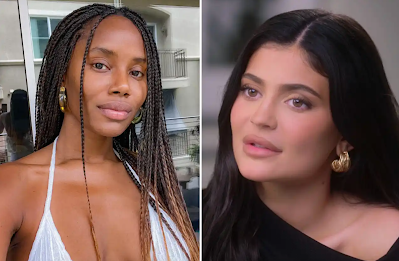 Kylie Jenner is being sued for failing to pay models for Kylie Cosmetics in a timely fashion. Model, Sasha Palma, has filed a $120,000 lawsuit against Kylie Cosmetics, claiming the business delayed her payment for two photoshoots she did for them in 2020 by more than a month.
Palma alleged in the legal documents reviewed by TMZ that she was supposed to get a $2,000 paycheck for the first job by early July since it only took a day, and the final images were publicized in June.
As for the second photoshoot, she argued that it was done in August 2020 and came with a $2,000 per day charge. However, Kylie's Cosmetics did not send her the paycheck until more than 30 days after she finished the shoot.
She said that Jenner's business refused to pay her on time even though they could do so, and for that, they now owe her damages totaling $60,000 each for the two cases where they missed the 30-day deadline.
The Sun reports:
KYLIE Jenner's makeup company Kylie Cosmetics has been sued for $120k by a former model who claimed she was paid late for her photoshoots while working with the brand.
Sasha Palma has accused the makeup line of being behind in payments on two separate occasions.
According to the model's recently filed lawsuit uncovered by TMZ, she was hired by Kylie Cosmetics for a couple of photoshoots to promote the brand's products.
In the documents obtained by the outlet, Sasha alleged that she was "first hired for a one-day shoot back in June 2020 at a daily rate of $2,000."
The influencer claims she was supposed to get paid by early July but that Kylie's brand missed the deadline by more than a month.
The model asserted that Kylie Cosmetics was "perfectly able to pay her on time but they chose not to," and as a result, she says they owe her up to $60,000 in penalty fees.
Sasha added that a similar incident occurred just one month later when she was hired for "another one-day photoshoot in August 2020."
The beauty model claimed that again she didn't receive her rate of $2,000 until more than 30 days after the deadline and is entitled to another $60,000.
As of Friday, June 16, a representative from Kylie's team told TMZ that Sasha was in fact paid "before the NET 45 days per her invoice for both shoots," adding that they "have documentation" to prove it.
Additionally, an inside source close to the makeup mogul has told TMZ that there's a chance the model's agent "could have held payment from her," which would not fall on Kylie.
The informant added that "the same model later asked the company for a letter of recommendation, which Kylie's brand did not do."
According to the insider Sasha's team "tried to get more work for her with Kylie's company" after the 2020 photo shoots, despite her previous complaints of late payment.
The U.S. Sun has reached out to Sasha Palma's rep for comment but have yet to hear back.