Singer, Pink ranked her 12 favorite music videos for BuzzFeed UK and placed "Lady Marmalade" featuring Christina Aguilera, Lil' Kim and Mýa last. When asked why, she said, "It wasn't very fun to make. I'm all about fun and it was like, a lot of fuss, and there were some personalities…Kim and Mýa were nice."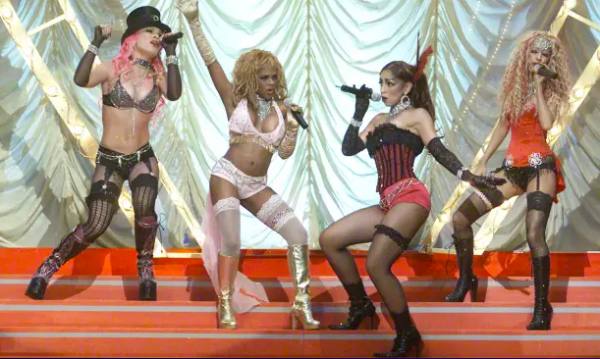 She added, "I guess it is iconic, but I remember I kept crying because my skin didn't like the makeup. It was just…There was some annoying things happening that day."
Pink has previously addressed past tensions with Christina that erupted over the recording of "Lady Marmalade." In a 2009 VH1 Behind the Music special, Pink said, "[Record executive] Ron Fair walked in. He didn't say hi to any of us and said, 'What's the high part? What's the most singing part? Christina's going to take that part.'"
Pink continued, "I stood up, and I said, 'Hi. How are you? So nice of you to introduce yourself. I'm Pink. She will not be taking that part. I think that's what the f–king meeting's about.' "
The two singers eventually put their differences aside and even worked together again. In 2017, Pink tweeted, "I [love] Xtina, we've made amends," and also said on Watch What Happens Live With Andy Cohen that she and Christina made up while filming The Voice the previous year.
Pink also told host Andy Cohen that their feud once turned physical, saying Christina once swung on her at a club and that it was "hilarious." In 2019, during her own appearance on WWHL, the "What a Girl Wants" singer responded to the accusation.
"Look at her and look at me," she told Andy. "I wouldn't swing on her. She's like, she's like, you know, she can beat my ass. Are you kidding me? She could really beat my ass then."
Christina also spoke about the origin of their feud. "I know she had some, you know, feelings or whatever about how the recording of 'Lady Marmalade' went down and all that," she said, "and I know the actual video, she intimidated me, because she was a little heckling me in the audience, a little bit behind the director and I was like, 'Oh, what's going on?'"
Christina continued, "That's what she did back then. But she's like, you know, she's a different person now—she's a mom, she's like, she's cool."