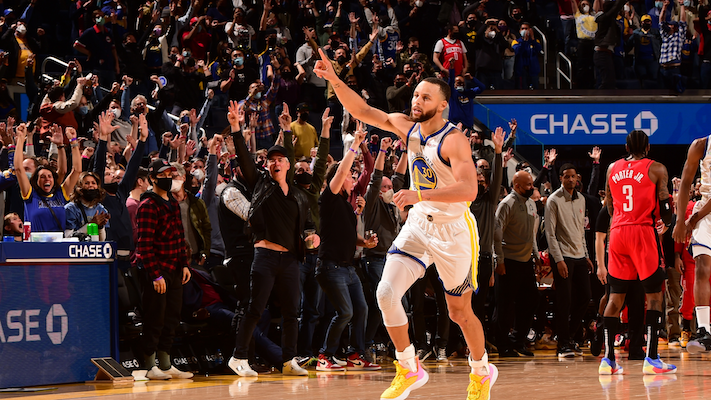 The NBA has recently announced that Stephen Curry, the guard for the Golden State Warriors, has been honored as the 2022-23 Kareem Abdul-Jabbar Social Justice Champion. Curry was chosen as the recipient from a pool of five finalists due to his unwavering commitment to promoting social justice and carrying forward Kareem Abdul-Jabbar's lifelong mission of fostering inclusivity, empowerment, and equality for historically marginalized individuals and disadvantaged groups.
Stephen Curry is a dedicated advocate for social justice, equity, and opportunity. His efforts include co-chairing Michelle Obama's "When We All Vote" initiative, where he actively promotes voter registration and education. Curry's involvement in the National Basketball Social Justice Coalition's "Freedom to Vote" campaign further demonstrates his commitment to civic engagement. He also addresses issues of community safety and took the opportunity during the Golden State Warriors' visit to the White House to engage with President Biden and participate in a press briefing. Additionally, Curry focuses on supporting underrepresented groups and reducing barriers to opportunity. Through his lifestyle brand, UNDERRATED, he empowers student-athletes and provides access and visibility to overlooked talent. Curry's nonprofit organization, Eat. Learn. Play., ensures that children in Oakland have access to nutritious food, educational resources, and safe recreational spaces. His initiatives have made a significant impact, including providing meals, books, and remodeled play spaces for thousands of students and families in need.
"I'm passionate about the work of the University of San Francisco Institute for Nonviolence and Social Justice and its commitment to overcoming injustice and systemic violence through peace," said Curry.  "As an athlete, I consistently leverage my platform to amplify advocacy and address the pervasive issue of systemic racism.  I firmly believe that we must be vocal both on social media and in real life, taking tangible actions to effect real change in our society and for generations to come.  Together, with the organization's co-founder and director, Dr. Clarence B. Jones, we have initiated meaningful conversations around social justice with the school's student body, doubled the charity's donations through my foundation Eat. Learn. Play.'s gift matching initiatives, and continued building on its mission in my personal and professional life by holding people accountable and promoting the principles of justice, fairness and equality today, tomorrow and in the future."
The NBA has announced that the four other finalists for the Kareem Abdul-Jabbar Social Justice Champion Award, namely Jaren Jackson Jr., Tre Jones, Chris Paul, and Grant Williams, will each receive a $25,000 donation from the NBA. These donations will be made to social justice organizations chosen by the finalists themselves. Grant Williams has selected VisionC, Jaren Jackson Jr. has chosen The Obama Foundation's Girls Opportunity Alliance, Tre Jones has designated the Children's Bereavement Center of South Texas, and Chris Paul has selected the Social Change Fund United as the recipient of the donations.
You can learn more about Curry's efforts here.