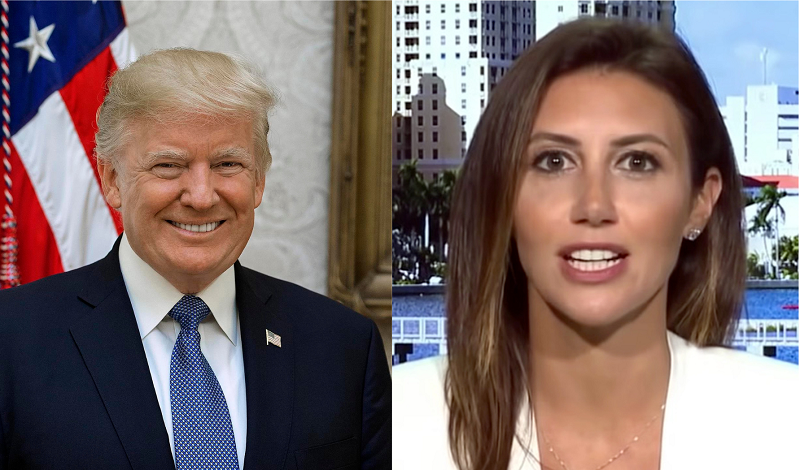 Be prepared for Donald Trump to be a name that you hear often this week. With an arraignment scheduled for Tuesday, Trump's name will ring off through social media and the news every day. Speaking with Benny Johnson on The Benny Show, Trump's attorney Alina Habba agreed with the show's host that the forthcoming charges would raise the notoriety of the former President.
Habba would respond to Johnson stating, "Donald Trump is Tupac. Donald Trump is Biggie Smalls." Habba would state she's from the east coast, showing Biggie bias and stating Trump would be bigger than Tupac.
"Donald Trump is his own brand, he is everything," Habba said. "This is just going to boost him we have seen it in the polls. This is not a question, this is a fact."
Habba isn't the first person to make the comparison. Chris Rock was on hand as Adam Sandler received the Mark Twain Prize for American Humor in D.C. Never one to miss a moment for political discourse, Rock threw a Trump joke while honoring his friend Sandler.
"Are you guys really gonna arrest Trump?" Rock stated. "Do you know this is only going to make him more popular? It's like arresting Tupac. He's just gonna sell more records. Are you stupid?"
And to be honest, Rock may be right because that's the thinking of Donald Trump. A couple of weekends back, Trump was once again calling for his base of supporters to ride for him after revealing he would be arrested, he didn't mention why, but it is believed to be for paying hush money to adult star Stormy Daniels.
Trump spoke to his supporters, writing the "leading Republican candidate and former president of the United States will be arrested on Tuesday of next week."
The alarming portion of his message is his call to his supporters to "Protest, take our nation back." The words are similar to those used ahead of the Insurrection at the Nation's capitol. New York City is now preparing for any clashes that could happen in the city, if Trump is indeed arrested.
According to CNN, Trump believes his base being charged up would help him politically. He also sees a positive in the indictment.
A spokesperson for Trump revealed that the former president didn't receive any indication that he would be arrested. Instead, he was "rightfully highlighting his innocence."
During the ceremony, Rock added more funny context to the potential indictment. "[Trump] f—ing a porn star and paid off someone so his wife couldn't find out. That's romantic," Rock said.
According to Fox News, Rock made a comparison to everyday life.
"We've all been cheated on. Don't you wish that the person that cheated on you paid off somebody so you wouldn't find out?"

– Chris Rock
The Source will update you on Tuesday if Trump is indeed arrested.