Tyler Perry's upcoming film "Six Triple Eight" has queued an all-star cast, led by Kerry Washington and Oprah Winfrey. The period piece about the only all-Black, all-women World War II battalion will be released on Netflix. 
The spectacular cast starring alongside Washington and Winfrey include, Ebony Obsidian, Milauna Jackson, Kylie Jefferson, Shanice Shantay, Sarah Jeffery, Pepi Sonuga, Jay Reeves, Jeanté Godlock, Moriah Brown, Baadja-Lyne Odums and Gregg Sulkin, along with Dean Norris, Sam Waterston and Susan Sarandon.
Washington is set to executive produce the film alongside director and producer Tyler Perry. Perry was inspired to write the screenplay from an article by Kevin M. Hymel published in WWII History Magazine by Sovereign Media. Additionally, the project is produced by Perry; Nicole Avant for Her Excellency Productions; Keri Selig for Intuition Productions; Carlota Espinosa; Angi Bones and Tony Strickland for Tyler Perry Studios. Mandalay Pictures' Peter Guber executive produces the project alongside Washington.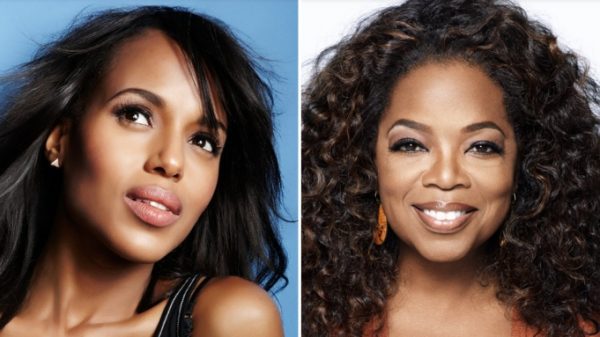 The story of the 6888th Postal Directory Battalion, consisting of 855 Black women, has been withdrawn from text books for nearly 75 years, concealing an incredible story of great importance. When these women joined the war effort, they were given the arduous task of sorting through, fixing and delivering the three-year backlog of mail. 
The film's synopsis reads, "Facing discrimination, unfamiliar land, and a war-torn country, they persevered and sorted over 17 million pieces of mail, reconnecting American soldiers with their families and loved ones back home. The motto that kept them going each day was one they created themselves: 'No Mail, Low Morale.' The women of the 6888 weren't just delivering mail, they were delivering hope."
President Joe Biden signed the bill for the women to receive the Congressional Gold Medal, Congress' highest honor on March 14th, 2022. 
"Six Triple Eight" marks Tyler Perry's fourth film directed for Netflix. Previous releases include, "A Fall From Grace," "A Madea Homecoming" and "A Jazzman's Blues." The film's release was officially announced in December and teased to Variety in August 2022. Perry said, " the film will feature  "some incredible people that were overlooked for years." Production for the film officially began earlier this week.