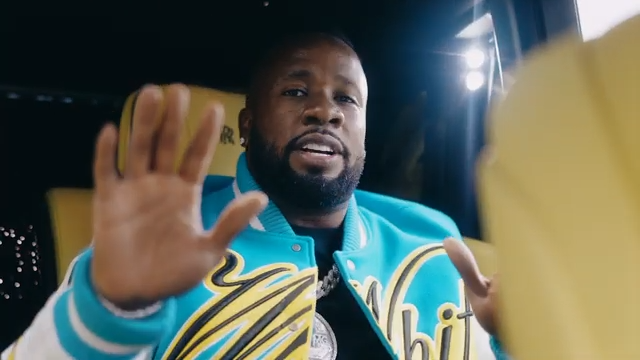 Yo Gotti announces the release of his new single, "No Fake Love," from his upcoming Gangsta Grillz mixtape, I Showed U So, set to drop on Aug. 4 via CMG Records. To accompany the announcement, Gotti unveiled the music video for "No Fake Love," featuring a special appearance from Angela Simmons.
In the visually stunning music video, Gotti delivers dynamic lyrics about his significant other, showcasing his smooth flow and heartfelt verses. The video captures the essence of true love as Gotti raps, "I ain't lost a crush since high school, I'm Mr. Follow Up," with his partner seated next to him in his luxurious Rolls Royce.
Fans can catch the exclusive premiere of the music video on popular music channels such as MTV Live, MTVU, Yo! MTV, and on the iconic Paramount Times Square billboards, adding to the anticipation for the upcoming mixtape release. With "No Fake Love," Yo Gotti continues to prove why he remains a powerhouse in the rap game, and fans eagerly await the full Gangsta Grillz mixtape to drop.
Yo Gotti has announced his forthcoming Gangsta Grillz mixtape I Showed U So in collaboration with DJ Drama on Aug. 4th. This project is a follow-up to his acclaimed Gangsta Grillz mixtape I Told U So, released in 2006, which was pivotal in propelling his career. I Told U So featured Slim Thug, Young Buck, Lil Keke, and more.
The Memphis native is celebrating the manifestation of his dreams and achievements, leveraging his 2006 mixtape's success to speak his successes into existence. Yo Gotti's latest mixtape marks his first solo music release since his 11th studio album, CM10: Free Game, which debuted at No. 3 on the Billboard 200 and became the highest-charting album of his career. The album featured collaborations with renowned artists like Moneybagg Yo, Kodak Black, Shenseea, and more.
Having achieved five consecutive Top-10 album debuts on the Billboard Top 200, Yo Gotti continues to make his mark in the music industry. Aside from his musical success, he recently made headlines by joining First Lady Dr. Jill Biden at The White House to host a Major League Soccer Youth Clinic, showcasing his passion for soccer as a co-owner of the esteemed franchise, DC United.
Fans are eagerly anticipating the release of "I Showed U So" and are eager to witness the next chapter in Yo Gotti's storied music career.