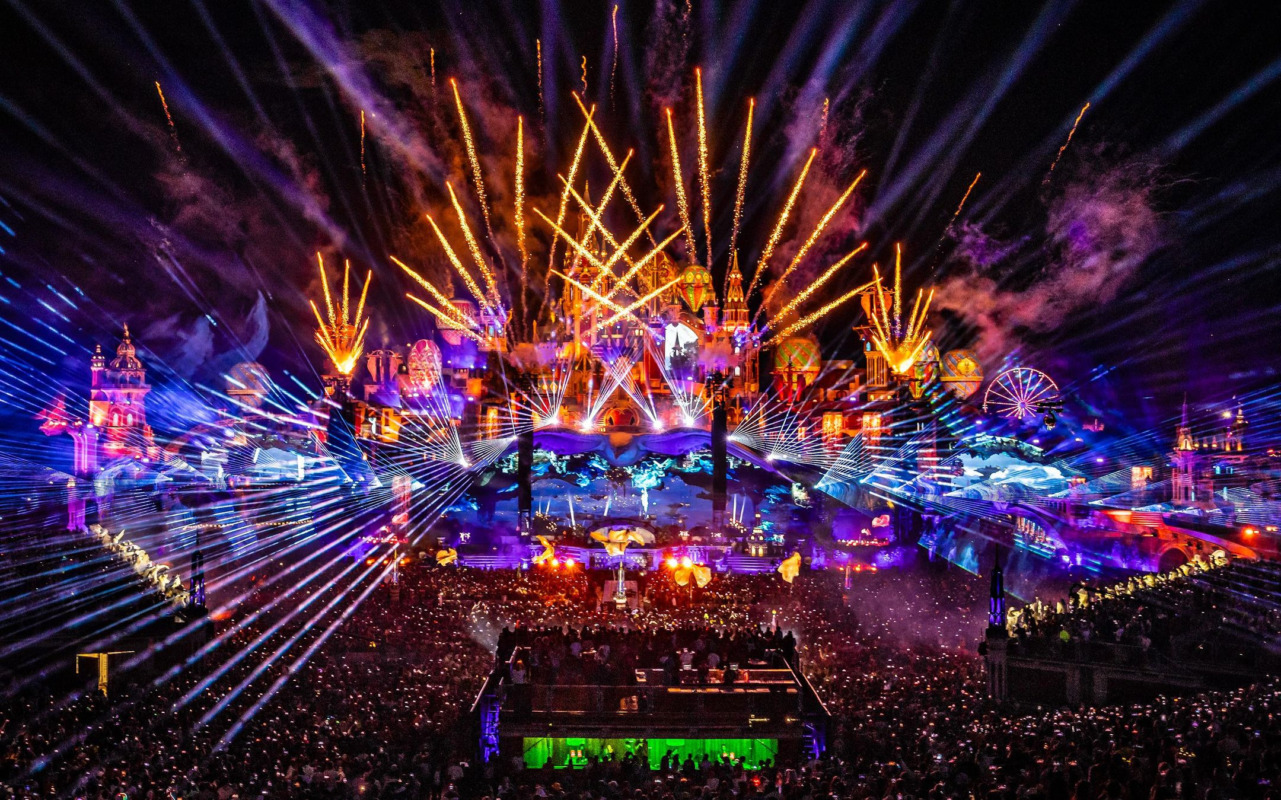 There's still an incredibly vivid memory that I have of watching the Tomorrowland livestream on July 26, 2013 in my childhood home. Hardwell had just come on right as the sun in Belgium started to set. And during that hour and a half of golden age bigroom—and one of the festival's single most iconic performances in its near two-decade history—I said that I eventually wanted to make the trip out to Boom.
Exactly a decade later—almost to the day—I was finally able to turn that bucket list dream into a fully-fledged reality. After taking some time to thoroughly process everything that had happened, I wanted to properly recap my first-ever Tomorrowland experience.
For full transparency, I was incredibly fortunate to attend as press through Dancing Astronaut. Obviously just the trip to Europe itself can be costly aside from the fact that it'd already taken me 10 years to actually make it happen. To shed some light on some of the details of the trip itself (since we didn't travel through Global Journey), we flew into Paris before taking a Thalys train to Brussels. That was the cheaper option at the time versus flying directly into Brussels, but we ultimately felt that we didn't save enough money to justify the length and time of the commute, which was about nine hours from New York to the hotel. And while we didn't have the opportunity to spend the weekend living at Dreamville, we were fortunate enough to stay at a hotel near the Brussels Airport, which was available for media by the Tomorrowland team. And I had just wanted to share a quick moment of appreciation for LunchBox, considering I brought along a LunchBox Hydration Pack (after my original CamelBak of seven years finally gave out on me), which ended up as a saving grace throughout the weekend.
Leading up to July, I genuinely wasn't sure if I'd ever have the chance to make it back to Boom considering it had taken me a decade to even attend once. I focused every second of the trip, not taking a millisecond of the weekend for granted. Not long into the first day of weekend two, I became convinced that if things worked out the way they did this year, Tomorrowland was something I wanted to do again.
From just trekking across the festival grounds, it immediately became clear that Tomorrowland isn't even playing the same game as every other major festival. It felt miles and miles above anything I'd ever done before, which isn't a knock in the slightest to festivals like Ultra or EDC Las Vegas. Tomorrowland is just a festival environment of a scale I hadn't previously been a part of.
And just the sheer size of Tomorrowland's layout wasn't something I'd fully grasped before actually being there, although photos had given me somewhat of a rough idea. But despite how unfathomably massive the venue is (34 hectares of space, which is the equivalent of 63 football fields, via the Tomorrowland team) Tomorrowland still felt so wildly immersive. It admittedly takes a hot second to travel from stage to stage, but simply doing that—even in the pouring rain on Sunday—didn't feel like a chore as it normally does elsewhere. Tomorrowland actually rents out a public park in Boom each year, and it fills the space between the stages with everything from art installations to a variety of drink stands to an untold number of food options—both of which were expectedly cheaper than options in the U.S.—to even a postcard booth where you can mail out a Tomorrowland-branded letter anywhere in the world free of charge.
A top priority of the weekend was simple: explore. And throughout the weekend—rather than sticking to a strict schedule of sets like I normally do at festivals—that's what I was able to do. Every single stage felt so carefully designed, each had its own unique environment, feel, style of music and even crowd energy. The cherry on top had to be that last piece, with the crowd across the entire festival elevating the experience in a way that was different than almost anything I had been a part of elsewhere festival wise. It's unbelievably cliche to say but everyone felt present and actually enjoying the moment rather than showing up to party or take some Instagram stories (something I've seen way too often at events specifically in New York). Those in attendance at Third Party's set at The Rose Garden on Sunday can wholly attest to the above; the crowd delivered an electric reaction regardless of what was being played—even singing along to their unreleased ID with Martin Garrix—as the rain poured down in buckets. Even on a day where the weather wasn't in our favor, Tomorrowland felt just as amazing as it had the previous two days.
My favorite moment from Tomorrowland 👑

The entire crowd was singing the melody of the new @ThirdPartyLive x @MartinGarrix ID pic.twitter.com/iHmKZEMSZ3

— Dancing Astronaut (@dancingastro) August 1, 2023
There's a million different things that could be said about the sets themselves so I'll attempt to keep this part short and sweet. When comparing the sets at Tomorrowland to those at a festival like Ultra, it definitely felt like I was less focused on exactly was playing at that point in time and more geared towards just enjoying it. Opening my weekend with both Korolova at Crystal Garden into an hour of pure progressive bliss from Matisse & Sadko on the mainstage was about as perfect as it conceivably gets. And as the weekend continued, I checked off bucket list moment after bucket list moment, including finally witnessing Hardwell at the Tomorrowland mainstage exactly one decade after that 2013 set convinced me to go, witnessing Alesso play "Calling (Lose My Mind)," and—of course—experiencing Martin Garrix shut down the weekend, to highlight a few. But as mentioned before, a primary focus of the weekend was exploration beyond the jaw-dropping mainstage. And I was able to witness so many other memorable sets around the holy grounds that truly brought the entire weekend together. Some of those sets included Vintage Culture and Kevin de Vries at Crystal Garden, Matroda and Tony Romera at The Library, Honey Dijon at the CORE stage (a stage I made it a mission to visit at least once), Enrico Sangiuliano at Atmosphere, Gorgon City at Rise, Boris Brejcha at Freedom, AN21 at The Rose Garden, and still a handful of other stages like Youphoria, The Rave Cave, and Elixir. But while Tomorrowland may have one structure that's explicitly labeled as its center point, the term "side stages" doesn't remotely feel applicable considering the level of intricacy and production of each stage.
Tomorrowland absolutely lives up to the hype.

Only way I could've ended day one @HARDWELL pic.twitter.com/TbFbEK6bul

— Dancing Astronaut (@dancingastro) July 29, 2023
CALLING LOSE MY MIND AT TOMORROWLAND

Bucket list moment pic.twitter.com/ugYGmNVAnH

— Dancing Astronaut (@dancingastro) July 30, 2023
I knew going into my first Tomorrowland that the weekend would go by a lot quicker than I'd want—that's usually how festival weekends go. But this one definitely felt more like a blur than normal. And even with more than a week having now passed, it's still taking some time to fully process everything that happened considering it was almost sensory overload during those three days.
What I can confirm though—and I pretty much knew it by the time Hardwell had ended—was that Tomorrowland not only lives up to the excitement that everyone talks about, it blows lightyears past it. Countless people had shared past experiences and tips with me in the months leading up to my first-ever trip to Boom, but in the end, nothing could have realistically prepared me for actually being there in person. It was unbelievably surreal to physically stand in a place that I'd only seen photos and videos of for 10 years. And as I rewatch the hundreds upon hundreds of videos that now live on my camera roll, the goal to travel back to the holy grounds in the coming years only grows tenfold.
I've seen @MartinGarrix so many times over the last 10 years and finally crossing off seeing him at Tomorrowland was truly surreal

Full body chills during the Hurricane outro pic.twitter.com/TBE4tu5qJG

— Dancing Astronaut (@dancingastro) July 31, 2023
Featured image: Alive Coverage