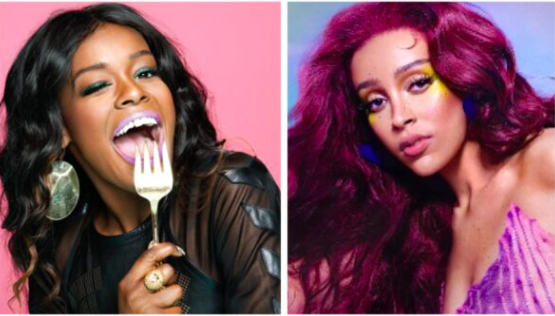 Azealia Banks has shared her opinion on another artist on social media again, this time her target was singer Doja Cat. Doja just released her new single, "Attention," and  Banks revealed that she isn't a huge fan of the "Woman" songstress and threw a shot at Kendrick Lamar.
"I really be wanting to like Doja's music but it's all just sooo try hard," she began her Instagram rant. "Her first album was actually cool as hell," she says, calling it "her own authentic art voice." She continues, claiming Doja Cat "sounds like a white girl that grew up in a house." "It's not giving that pissy stairwell / bacon egg and cheese / vanilla Dutch nyc energy she's reaching for," Banks says, adding that California rap is "purposefully inoffensive and caters to paper shoe Tom and matted hair Abigail."
Banks continued to tear into Doja, saying "Her approach to trying to conceptualize an authentic rap record is giving angel haze NYC WANNABE levels of boring rippity rap/ cheesy soho whiteboy hypebeast circa '06." "She's giving me those weird fka twigs biracial girl identity crisis vibes," she added. Banks then called Kendrick Lamar "MAD overrated and extremely complacent." She further accused the rapper of having "white ghostwriters writing about the black struggle n sh*t."
Thoughts?