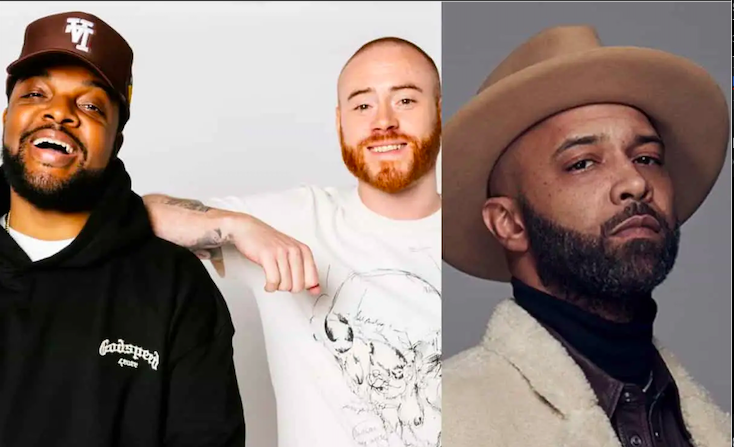 Joe Budden and his former co-hosts are back at it again.
Podcasters Rory and Mal recently called the New Jersey native a "thief" and "cat burglar" for the alleged financial issues they had host, which ultimately ended their relationship.
Budden has fired back and referred to them as the "bare minimum" boys — a  reference to Drake's track "BackOutsideBoyz" from his and 21 Savage's Her Loss album. Although Budden appears to throw subliminals at Rory and Mal, he never says their names.
"To whom this may concern," he began. "This is not even on page one of the manual, 'cause you n-ggas ain't in the bookstore. Instead of critiquing people's placement on this list, we need more critiquing on why you're not on it. To everyone not on it, shut the fuck up. There's some steps that you n-ggas have missed.
"To whom it may concern, stop holding a microphone. I'm just giving out podcast advice. It's certain n-ggas, y'all can't speak to me, y'all didn't do the work yet. You didn't go to the bookstore."
"Hire the editors. Get people to help. Invest in the staff. Pay the staff. Get more staff. Stop check chasing. Stop doing the bare minimum and expecting that to yield results. You n-ggas are the bare minimum boys."
Mal has previously said there's no chance of reconciliation for the former friends.
"I don't respect him at all," Mal stated. "Shake his hand? I'll shake the room before I shake his hand. That's just what it is. It's not even about the business or the money. It's a lot of money, it's a lot of money, bro, that me and Rory walked away from. It's a lot of money that was taken out of our pockets. It's a lot of money that still to this day, we don't have no lawyers going after it. Keep it. We got our own bag."
He continued: "But, with that money that we walked away from, with that, what was owed to us that we walked away from, that was also me walking away from a relationship and a chapter of life that, once I walk away, you know, that door never opens again."
Listen to Budden's comments around the 1:27:33 mark below.
Listen to Rory and Mal's comments below.