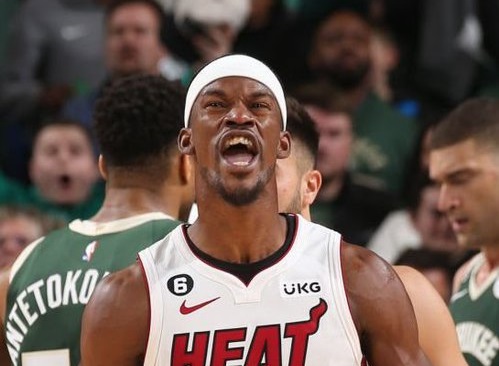 Jimmy Butler and Damian Lillard came across each other for the first time since Lillard was traded to the Milwaukee Bucks. Lillard long wanted to be traded to Butler's Miami HEAT, but his wish was not granted. NBA cameras caught the two coming across each other at Fiserv Forum in Milwaukee before the game.
The Bucks won 122-114. Lillard had 25 points, Giannis Antentokounmpo added 33. Butler had 13 points.
In September, Jimmy Butler joked about wanting the NBA's version of a RICO opened on the Milwaukee Bucks. The Bucks landed Damian Lillard in a trade, a deal that long thought would send the point guard to the Miami HEAT. The other teams in the deal are the Phoenix Suns and Milwaukee Bucks. The Blazers will receive Jrue Holiday, Deandre Ayton, Toumani Camara, Milwaukee's 2029 unprotected 1st-round draft pick, and unprotected Milwaukee swap rights in 2028 and 2030.
The Suns recieved Jusuf Nurkic, Grayson Allen, Nassir Little, and Keon Johnson.
Damian Lillard and Giannis Antetokounmpo in recent years flirted with idea of playing with one another but the hold up was each star wanted the other to join their team. Milwaukee landed Antetokounmpo's desired star mate.

— Chris Haynes (@ChrisBHaynes) September 27, 2023
In a Fresno barbershop called Phase II a few months ago, Giannis Antetokounmpo was asked of the one player he would like to play with. His response was Damian Lillard.

— Chris Haynes (@ChrisBHaynes) September 27, 2023
Hitting social media, Butler wants the NBA to look into the Bucks. Although, it could just be a joke to the moment.
"Yo NBA man, y'all need to look into the Bucks for tampering," Butler said. "Y'all didn't hear it from me, but I heard it from somebody."
"Yo NBA man, y'all need to look into the Bucks for tampering… Y'all didn't hear it from me, but I heard it from somebody."

Jimmy Butler speaks on Damian Lillard being traded to the Milwaukee Bucks 😅

(via @JimmyButler / IG)pic.twitter.com/fDBMSEHN3h

— ClutchPoints (@ClutchPoints) September 27, 2023