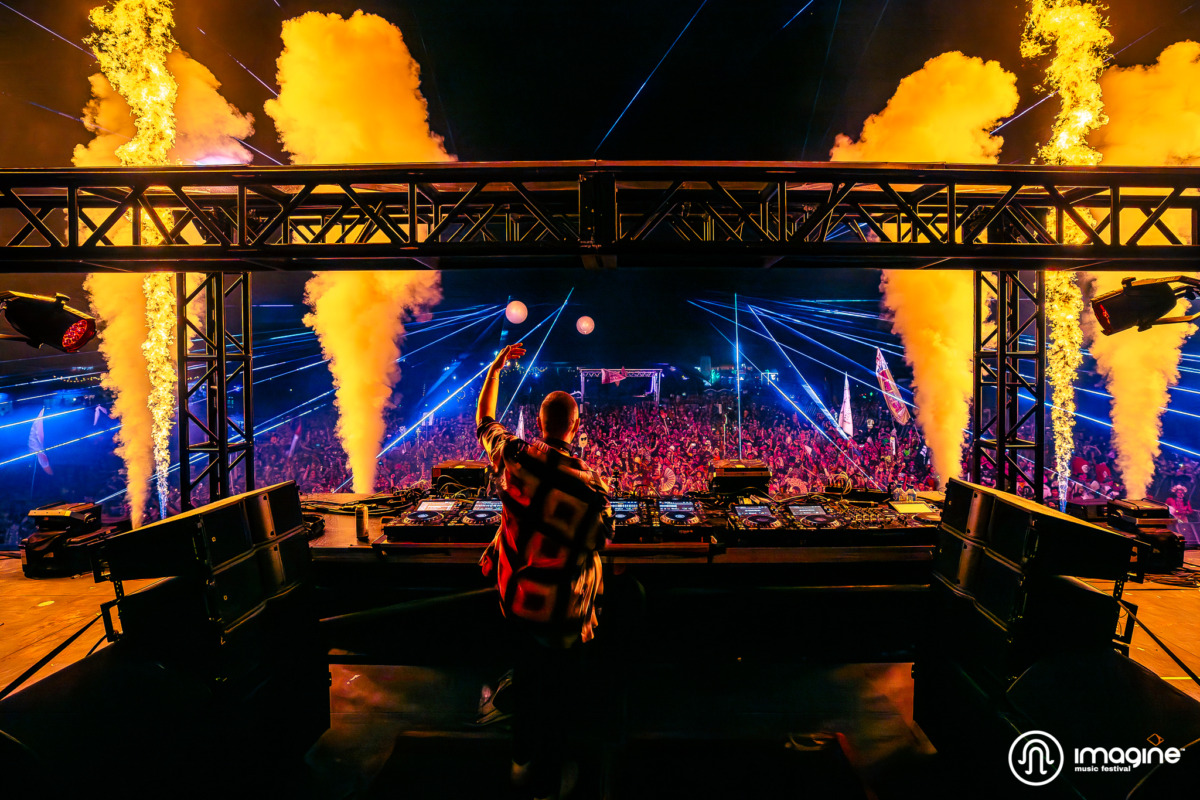 Since its inception in 2017, Black Book Records has signed and distributed over one hundred world-renowned dance cuts, including "Turn Off The Lights," "Deceiver," "California Dreamin'," "365 (Thr33 6ix 5ive)," and "Mi Corazón," among many others. Norwich-born label boss Chris Lake, however, has been serving hits to the global dance community for nearly twenty years.
Thus far in 2023, the Grammy-nominated house visionary has unlocked two brand new original offerings in "Beggin'," featuring ex-AlunaGeorge vocalist Aluna, and "More Baby," also spotlighting the "You Know You Like It" singer. On-site at Imagine Music Festival 2023, just before his headline set, Lake told Dancing Astronaut,
"I asked [Aluna] to freestyle over another beat after the Beggin' session. I got four minutes of her freestyling, and a piece of it was her singing, 'Give me more… More, baby.'"
"Beggin'" first arrived via Black Book Records on April 20th, 2023. Then, after issuing an edit of "Fool For Love," originally produced by Harry Romero and Leo Wood, soon after dropping an official Four Tet remix of "In The Yuma," Lake finalized and hit send on "More Baby." To his fans' utmost pleasure, he also included an unforeseen VIP mix of the record.
"I guess it's a taste thing, ya know?" said Lake, broaching the subject of Black Book's sonic palette,
"I choose a lot of the records that are on the label. That'll change over time; there are more people involved now. I absolutely trust and value everyone [on the team.] We all share a vision of treating [Black Book] as a creative passion project, rather than a business, where we aim to release the best music possible."
In an era marked by viral internet trends and algorithm-led A&R work, Chris Lake remains one of dance music's most influential tastemakers. From rising to fame in 2006 with his Laura V-assisted single "Changes" to kicking off 2023 with back-to-back originals, Lake is living proof that self-care as an artist is essential to long-term relevance and success.
"I'm basically on death's doorstep, so longevity is subjective," Lake jokingly admitted, adding,
"I've been sober for 12 years. I'm not saying I'm the healthiest person in the world, but I take what I do seriously. I understand the possible pitfalls, so I do whatever I can to counteract those. That said, we don't sleep very often, it's really easy to eat like shit, and traveling takes a toll on you. Also, making music can be quite emotional. From experience, though, I know how to handle all of that. I try to look after myself to continue doing this as long as possible."
Producing and performing for "as long as possible" typically necessitates upgrading or evolving one's craft. "Some things are improving," Lake mentioned, "I'm always trying to challenge myself." He divulged,
"I could release more, but I think releasing more would mean compromising myself. I could do what's most obvious and most needed to have a 'technically-successful career,' but that's not going to make me happy. I enjoy the challenge of making different things with different people, things that people wouldn't necessarily expect. That makes me happy. I enjoy that challenge. I'm enjoying it while it's working." 
Chris Lake's fanbase stretches across all age ranges, races, and genders. Many younger fans idolize Chris hoping to be like him someday, touring the world releasing fan favorite track IDs between cities. It's no secret that achieving impactful success as a DJ has never been so competitive. Agreeing, Lake expounded some valuable advice to aspiring producers before heading out to play his headline set at Imagine 2023:
"It is heavily saturated. And that points to the biggest thing that everyone should be trying to achieve, which is to find their own individuality… Find that one thing that makes you stand out and lean into it. And make the most of it, because the hardest thing to do is to stand out. And this is what I think sometimes clashes with human nature; I think we often reject what makes us stand out because then that kind of isolates us from a crowd. But that's really what you want to do as an artist; you want to stand out, you want to be seen as an individual. Find what makes you unique so people remember you; otherwise, you'll be second to the party and blend in with the rest of the crowd."