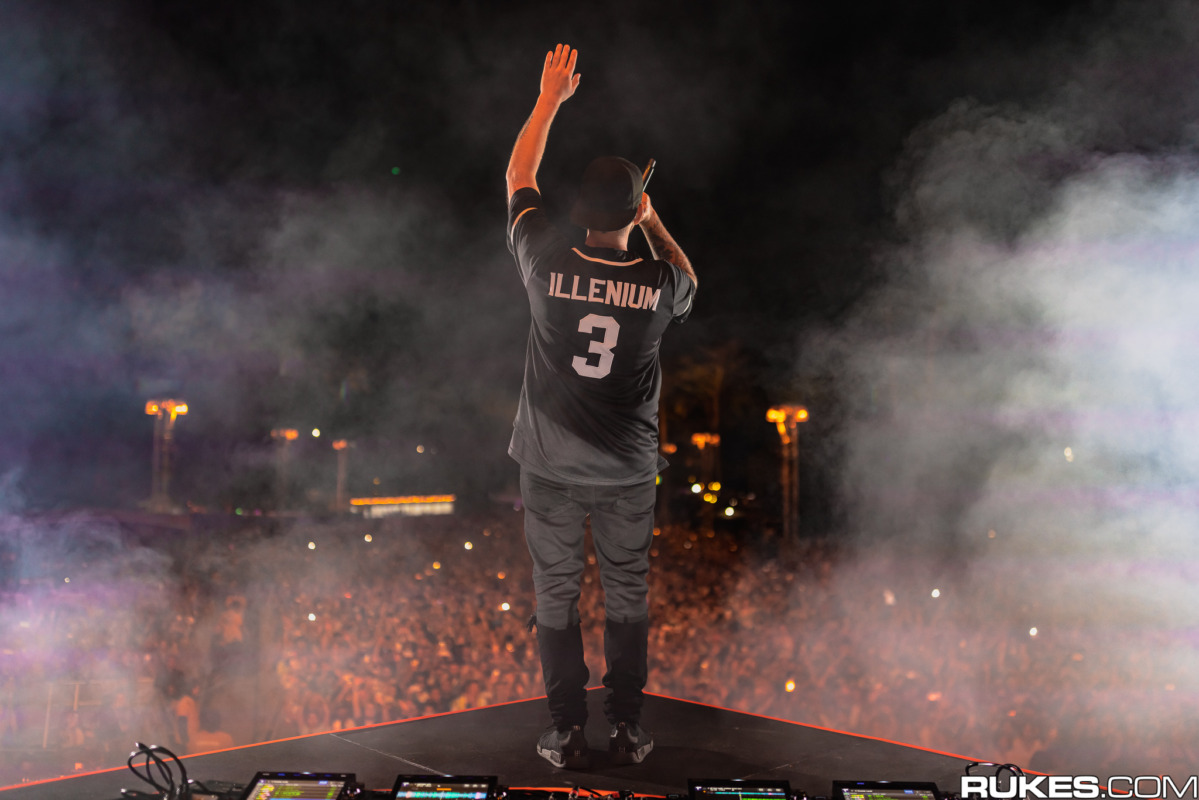 "To me, a self titled album is the core sound of who I am." What does that mean for ILLENIUM in 2023? Well, on his fifth long-form release, that question is goes far beyond being asked and answered. Exactly year removed from Fallen Embers—one of Dancing Astronaut's Top Albums of 2021 and an LP that would eventually lead to his crowning as Dancing Astronaut's 2021 Artist of the Year—ILLENIUM had already begun to plant the seeds for chapter number five, teasing that his third set at TRILOGY 2 on June 17 would be a "new live show." While the live element of ILLENIUM's shows was a component purposely left behind throughout his Fallen Embers run, it was something he always planned to re-explore when that fifth era would present itself in the not-so-distant future. And a clearer picture as to how that's going to look, sound, and feel in Denver is now being painted, with ILLENIUM formally appending his album lineage of Ashes, Awake, and Ascend, and Fallen Embers with its eponymous fifth addition.
Before the existence of ILLENIUM was even publicly known, ILLENIUM shared his thoughts around it on a Reddit thread that called for a return to his "older style." And he let it known right off the bat that—in his opinion—his fifth body of work stood above the four that came before it, candidly adding that he's fully aware it won't necessarily be everyone's cup of tea, especially those unjustly wishing for him to take a step backwards in terms of his sound's progression. He explained that ILLENIUM was bursting with stylistic risks and was "heavily influenced by more 'arena-sounding' rock"—similarly to "Feel Something," "Story Of My Life," and "Shivering"—a sound he'd gradually begun to experiment with on both Ascend and Fallen Embers.
Although it sits in his fifth album slot, ILLENIUM is designated as a prelude to Ashes, Awake, and Ascend, with ILLENIUM tapping into the sonic influences that would eventually lead him to this point in time.
Guided by seven singles—"Shivering" with Spiritbox, "All That Really Matters" with Teddy Swims, "From The Ashes" with Skylar Grey, "Worst Day" with MAX, "Luv Me A Little" with Nina Nesbitt, "Insanity' with American Teeth, and "With All My Heart" with JVKE—that we'll spare this already lengthy article from re-examination, ILLENIUM more than doubles its current tracklist on release day. And "Starfall" is one of them, a cinematic four-minute introduction that gets the album wheels rapidly turning with a double package of melodic bass and psy-trance—slightly reminiscent of Seven Lions—that follows previous iconic album openers like "Reverie," "Needed You," "I Care," and "Blame Myself." With three pre-album deliveries in its wake, "Lifeline" with jxdn follows as ILLENIUM's next inductee. Having been floating around the internet for more than a year—after jxdn debuted a live version in a stream back in March of 2022—"Lifeline" is the album's first full plunge into the punk rock-doused spirit that ILLENIUM had initially teased, resulting in a seamless crossbred anthem that's decisively going to have stadiums absoltutely erupting in the coming months. Then comes ILLENIUM's single most awaited matchup (thanks Urban Outfitters) with Avril Lavigne and Travis Barker, which takes the "Lifeline" hybrid a step even further for an album cut that undoubtedly would've headlined a Now That's What I Call Music! CD tracklist in the mid-2000s. And the album just continues to deliver over and over, with one of Dancing Astronaut's most-anticipated IDs of 2023 stepping in next as ILLENIUM finally surrenders "You Were Right" alongside Wooli and Grabbitz. As the album passes its halfway mark, "Drwn" clocks in at the number 10 spot, chaining a sample from Bring Me The Horizon's "Drown" with an emotion-drenched, vocal chop-filled slice of melodic bass brilliance. Then ILLENIUM moves towards the Vera Blue-backed, future bass-ready reunion with Said The Sky "Other Side" before "I Want U 2 (Stay)," which feels like the ultimate salute to Ashes on ILLENIUM. Then comes another nostalgic trip back to the 2000s with All Time Low—who actually join ILLENIUM on a few evenings this summer—on "Back To You." And last but certainly not least of the nine new ILLENIUM members is "Nothing Ever After" with Motionless In White, a metal-tinged delivery that follows through on his hint that "Shivering" wouldn't be the album's sole hard-hitting crossover.
Just as all four albums that have come before it have done, ILLENIUM continues to fully ripen the ILLENIUM identity in a way that couldn't be farther removed from the words "stale," "repetitive," or "uninspired." It brings the half-and-half of punk-rock and melodic-bass that we'd already witnessed glimpses of throughout the previous two years and effortlessly brings it to a matured state with a 16-sided project that both authentically and properly outlines where ILLENIUM is in this day and age and where his origins stem from. It's an album that was built by design to eventually be translated into a live band configuration, and as we now hold on to get a better grasp of what that will exactly look like come the end of May at The Gorge Ampitheathre, ILLENIUM's fifth consecutive masterpiece can officially be streamed below. Happy ILLENIUM day.
Featured image: Rukes