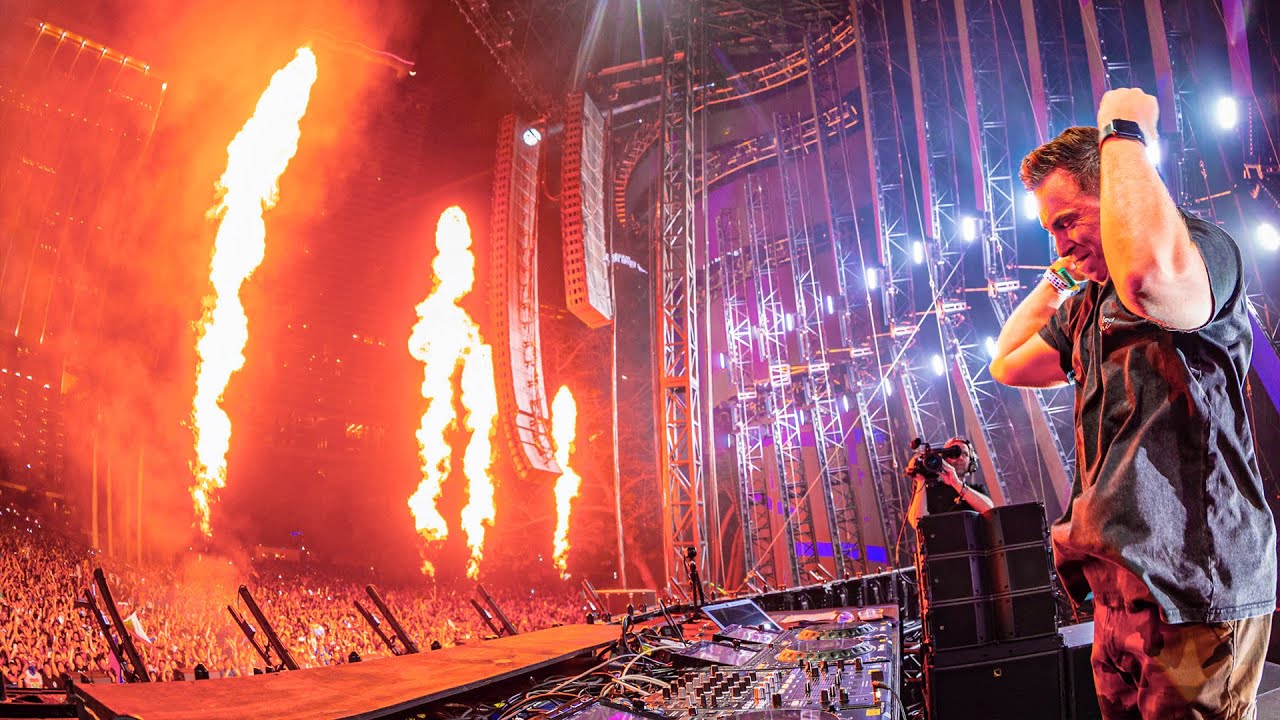 The calendar has officially marked April 21 as "Judgement Day." It's now been back-to-back weeks of deliveries of highly requested music from Hardwell. But "Judgement Day" arguably goes down as Hardwell's biggest sonic surrender since adding the concluding puzzle piece to Dancing Astronaut's 2022 Album of the Year. And it was only fitting that it was the key to unlock the Revealed Recording head's sixth and final ID door amidst the rollout he's been uncovering since the beginning of February—following "Balança" with VINNE, "Twisted" with Will Sparks, and "Sloopkogel" with Quintino, "Revolution" with Maddix and Timmy Trumpet, and The Seduction EP with Olly James—with Hardwell cementing a hardstyle trio alongside fellow Dutchmen Sub Zero Project just a week after joining them to unleash it live together in Bangkok.
Similarly to a majority of the five previous ID doors, "Judgement Day" dates back almost a year to Hardwell's first post-Ultra appearance, where he capped off the night in Jerusalem with a track that would inevitably land on Dancing Astronaut's most-anticipated IDs of 2023 list, considering he would later mention any collaborations would have to wait until after Rebels Never Die. And in the time following Ultra, it would earn a permanent seat in Hardwell's sets, typically as a chilling grand finale mashup alongside Ran-D's "Zombie."
"Judgement Day" is far from Hardwell's first foray into hardstyle, following tracks like "Make The World Ours," "Nothing Can Hold Us Down," and "Shine A Light." But it unapologetically scores the title of the most combative release on Hardwell's decade-plus record, adding yet another fresh production lens to Hardwell's post-comeback campaign and continuing to put him head-to-head against Skrillex for the sole artist that's had 2023 wrapped around their fingers thus far. While that will be a conversation tabled for December, we can safely say "Judgement Day" will be amongst Dancing Astronaut's top releases of 2023 when it's all said and done, and it can finally be streamed below.
ZOMBIE x JUDGEMENT DAY 🔥

Waited for tonight since the moment the RND tour was announced during Ultra

Thank you so much @HARDWELL pic.twitter.com/Swq5KfFqeG

— Dancing Astronaut (@dancingastro) September 18, 2022
Featured image: Rutger Geerling