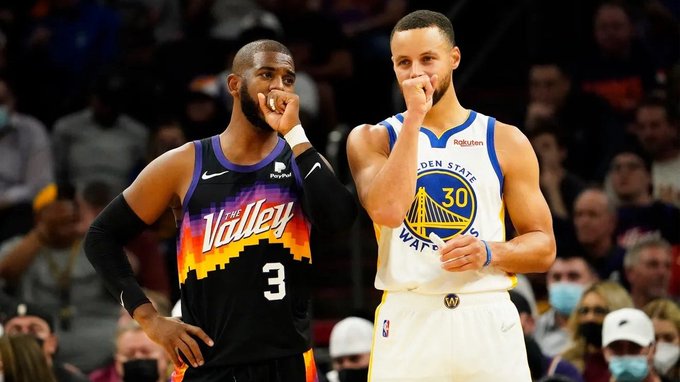 In case you missed it, Chris Paul is the latest member of the Golden State Warriors. After the trade broke the Internet, sportscaster Lindsay Czarniak spoke with CP3 for her Lunch with Lindsay podcast.
The full episode, set to release on July 13, features a heartfelt conversation where Paul reveals how his son broke the news again, describing it as a "full-circle" moment. The emotionally charged day for Paul began with attending a funeral for his great-grandmother.
CP3 reveals he learned about becoming a member of the Warriors from his son after a pickup game.
"After the game got over at 1, little Chris came over and told me," CP3 revealed. "I was excited to get a chance to go play for a franchise like that with the great players they have. It's crazy how life comes full circle. For the last 10 years I've been competing… against them. I'm all about winning, so whatever's gonna give me an opportunity to win I'm all for it."
CP3 added, "I'm excited, I'm grateful… to get a opportunity to get an opportunity to play with that core group of players, Steph, Klay, Draymond, Looney, Wig, all them, play for Steve… It just happened so I'm just processing it all. I definitely want to get on the phone and talk to those guys and whatnot and see what's what."
CP3 also spoke about the funeral:
"It's funny. I had a funeral to go to this morning. My great grandmother passed away on Friday. We got in town late last night and this morning I was at a funeral. My great grandmother was 95 years old. I went and spoke at something this afternoon, and it was crazy because in the book I talk about funerals and how tough they are to deal with…. And I had one this morning…. It's the first time I've been to a funeral like that with my son who's 14. I'm thinking about how I just wrote about this in the book and I'm living it today.

My grandmother's mother, so I'm seeing a lot of my family members some of them I haven't seen in 15 years or maybe longer. So all the emotions of that this morning. Then the trade… I had almost forgot about the funeral for a second there when we was talking about that because it's so much, you know what I mean, but you keep moving."
The full Lunch with Lindsay episode will be released on July 13.